Delighted to announce the launch of
Maire Liberace's first full book of poems.
THE HARBOUR GALLER, BAYVIEW ROAD, (ROAD TO THE RATHLIN FERRY), BALLYCASTLE, COUNTY ANTRIM.
SATURDAY, 6 AUGUST, FROM 6.00 T0 8.00 P.M.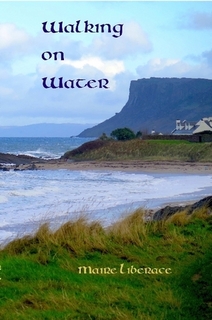 Maire has previously published poetry in 'A New Ulster', Northern Ireland's newest literary and arts ezine, magazine.
The poems are a celebration of Ireland. Maire has grown up with a love and regard for its history, its legends, literature and poetry. All have been embedded in the marrow of her bones and this is reflected in a deep love for the country she grew up in.
Now resident in the United States, and with a grown up family, she is still immersed in the stories, people and experiences that shaped her early years and which have given her sustenance, succour and structure throughout her life.
She remains a frequent visitor to Ireland, returning to the North Antrim coast every year, keeping in close contact with the extended family in Ballycastle and Carey.
And it is of these places and people that she mainly writes; especially Ballycastle and its environs. These are the places that have brought everything together for Maire. The people, the landscapes and, in particular the sea, have always been and still are the sources of her inspiration. Among these, Murlough Bay remains the place of her dreams and fondest memories.
Many of her poems are imbued with a deep and original reflectiveness that seems to emerge from the landscape that inspired them. She writes of herself as:
Alone yet not lonely
I am rooted in time past,
Mist settles on my face
crystal beading on my hair and jacket.
The poems you will find here are strong, yet quiet, thoughtful yet accessible, thought-provoking yet without straining to be clever. They deserve to be read and reread by all who feel the pulse of the past beat from this lovely landscape and who see the glimmer of ancient ghosts cross the features of folk and events still with us.
Just as her mother imbued Maire with the love of her childhood landscape, so Robert, her son and renowned artist and living Master, has celebrated the same setting through his art and sculpture, and some of Robert's work graces the pages of this publication.